Our non-profit neighbourood association, called Friends of Peanut Park has "adopted" Enderton Park, and works with the City to beautify the park and recapture its original charm.
If you want to help beautify Peanut Park, and you are not already on our e-mail list, please go to the Join Friends page and fill in the e-mail form to be on the list for news and events. It costs nothing to join, and you will receive our occasional updates and invitations to events. Friends are called on to contribute money and do volunteer work to enhance the park from time to time.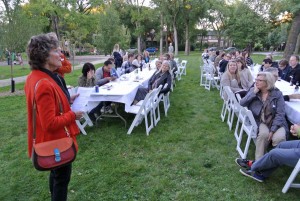 Fundraising
In adopting the park and making the flower beds, we made a commitment to the City that The Friends of Peanut Park will cover the costs of maintaining our enhancements. Our annual maintenance cost is approximately $12,000; this covers plants, materials and labour.
Thanks to everyone who has contributed to date, we have the funds in the bank. We will continue the neighbourhood fund-raising parties, but the most important funding initiative for the future of the park is "The Peanut Park Gardens Club", made up of those who contribute annually. The suggested amount is $250 a year. 48 contributors at this level would cover maintenance.
Families in the neighbourhood are asked to contribute whatever they can. Contributions qualify as charitable donations. Make out your cheque to the City of Winnipeg. 100% of the money will be applied to our expenses in beautifying Peanut Park, and the City will send you a charitable tax receipt.
Please drop off your cheque made out to the City of Winnipeg in Patti's mail box at 107 Kingsway .
Thanks for joining the team.